Patricia
Patricia Deiters- Rahusen (1956) works in her practice as Imago Relationship Therapist and Imagery coach & counsellor in Breukelen, the Netherlands.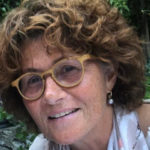 'After 15 years as a sworn interpreter-translator for French and Spanish, I wanted to work with language differently: with images behind words. I attended in particular a three-year programme at the School for Imagination in Amsterdam. In discovering active imagination, I discovered my essential being, as it were: who and what I am, and not who and what I had become. This insight had an enormously positive impact on me.
I also attended a variety of workshops on working with voice, systemic work, creative and visual expression, yoga, meditation and relaxation techniques. I like to help other people find new energy and inspiration to improve their relations and therefor the quality of their lives.
 Training courses and Experience
Certified Clinical Imago Relationship Therapist, level 2 (2021)
De Mat: Degree in coaching/therapy (2013)
Imagination: Degree in Imagery, School for Imagination in Amsterdam (2000)
Creative expression: Annette Bredero (Amsterdam)
Voice coaching: Jonathan Hart, MarieJan van Oort, Jean René Toussaint, Annemarie Blink, Milaya Lodian (Austria)
Bodywork, visual expression: Eddy Loonstijn (Haarlem)
Stress relief and relaxation techniques: Christiaan Kuhn (Germany)
Autogenic training: Gerhold Platzer (Germany)
Yoga: Annemarie Bokma (Amsterdam)
Fear of flying and stress management: Lucas van Gerwen (Leiden)
Sworn Translator, Utrecht District Court (1984)
Master's Degree in Translation (Spanish/French/Dutch), HIVT – Rijksuniversitair Centrum Antwerpen (1983)
Affiliations:
Disputes and Complaint:  ZZP Nederland, number 11101151
Other activities: